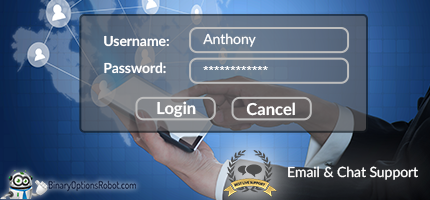 This month, Binary Options Robot has introduced a novelty that is unique to this auto trading software. Auto Trade Approval is a trading benefit that is available to all Binary Options Robot traders. It is a free setting and it provides users more control over their trading account.
Binary Options Robot has been one of the best binary robots on the market for some time now. It has a long line of satisfied traders that have been able to fix their financial status and achieve regular profits.
As a binary software that scans the market with trading algorithms and looks for profitable trades, Binary Options Robot provides a full service. Traders are only expected to optimize the trading dashboard so the Robot could trade according to their preferences. With Auto Trade Approval, traders are now in full control of every trade that is offered to them.
Auto Trade Approval Enables Complete Control to Traders
Auto Trade Approval is unique to Binary Options Robot and its function is vital to traders' investment planning. All the advantages of Binary Options Robot and the auto trading experience remain. The trading experience is simply improved with Auto Trade Approval.
Auto Trade Approval enables traders to have the final say with the trades that the Robot provides.
Unlike before when the trade alerts were automatically received and placed, with Auto Trade Approval traders have a one-of-a-kind opportunity to accept or decline every trade that pops up on their trading dashboard.
Binary Options Robot is Better than Ever with Auto Trade Approval
When traders optimize their trading dashboard, they will receive a pop up window. This pop up window is an actual trading opportunity that a trader can take it or leave it. This Auto Trade Approval pop up will provide the following information: the asset, investment value, call or put option, and the expiry time for accepting the trade.
Now, traders may decide each time whether they will accept or decline the trade. The decision is completely theirs. The Robot finds the optimal trade and provides the trade details except now, the decision is yours.
This novelty is available to beginners and advanced traders as well. All Binary Options Robot benefit from it. Auto Trade Approval is an advanced setting that is available only while the trader is online. This benefit allows you to accept more trades now which could result in a greater financial gain. Auto Trade Approval fully envelops the simplicity and cost-effectiveness that Binary Options Robot contributes to its traders.